KDE:n käyttöliittymäohjeet
The KDE Human Interface Guidelines (HIG) offer designers and developers a set of recommendations for producing beautiful, usable, and consistent user interfaces for convergent desktop and mobile applications and workspace widgets. Our aim is to improve the experience for users by making consistent interfaces for desktop, mobile, and everything in between, more consistent, intuitive and learnable.
Design Vision
Our design vision focuses on two attributes of KDE software that connect its future to its history: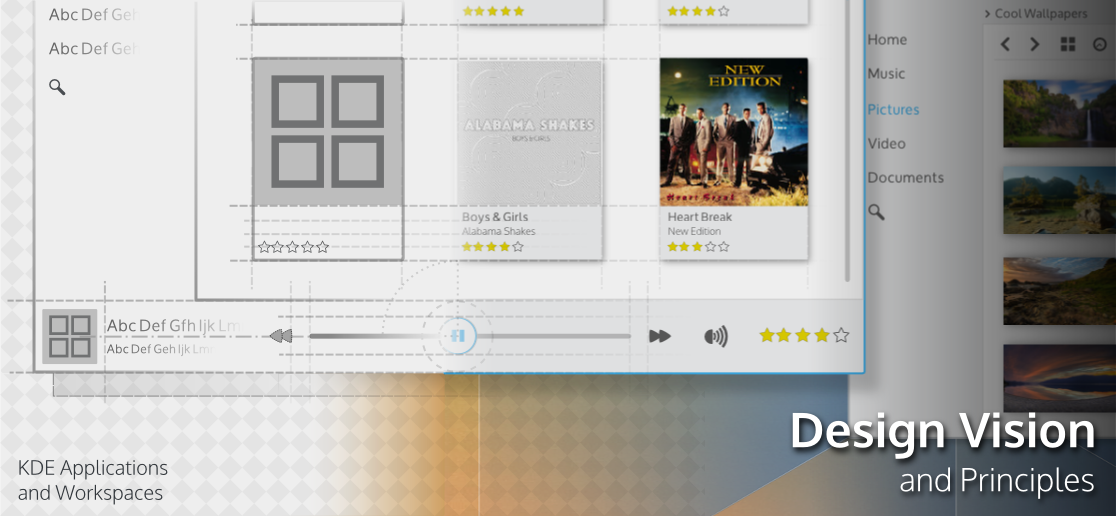 Oletuksena yksinkertainen…
Yksinkertainen ja houkutteleva. KDE-ohjelmat ovat mukavia kokea ja helppoja käyttää.
*Tee oleelliseen keskittymisestä helppoa
Poista tai vähennä osia, jotka eivät ole olennaisia päätehtävän kannalta. Osoita järjestys käyttämällä tyhjää tilaa. Kiinnitä huomiota värein. Paljasta lisätiedot ja -ominaisuudet vain tarvittaessa.
"Tiedän, mitä se tehdään!"
Tee asioista helppoja oppia uusiokäyttämällä muiden sovellusten kaavaa. Muut hyvin suunnitellut sovellukset asettavat mallin, jota seurata.
Hoida vaikein puolestani
Tee monimutkaisista tehtävistä yksinkertaisia. Saa aloittelijat tuntemaan itsensä asiantuntijoiksi. Luo tapoja, joilla ohjelmasi saa käyttäjän tuntemaan itsensä tehokkaaksi.
…tarvittaessa tehokas
Power and flexibility. KDE software allows users to be effortlessly creative and efficiently productive.
Ratkaise ongelma
Identify and make very clear to the user what need is addressed and how.
Aina hallinnassa
Aina tulisi olla selvää, mitä voi tehdä, mitä paraikaa tapahtuu ja juuri tapahtui. Käyttäjän ei koskaan tulisi tuntea olevansa työkalun armoilla. Anna viimeinen sana hänelle.
Ole joustava
Tarjoa tolkulliset oletukset, mutta tarjoa lisätoimintoja ja mukautusmahdollisuuksia, jotka eivät häiritse päätehtävää.
Huomaa
KDE encourages developing and designing for customization, while providing good default settings. Integrating into other desktop environments is also a virtue, but ultimately we aim for perfection within our own Plasma desktop environment with the default themes and settings. This aim should not be compromised.